FJ60 1985 - Sold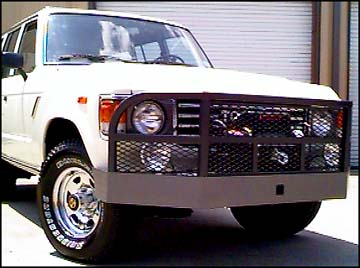 1985 FJ-60 Sold to Doctor in Tennessee... Vehicle was originally from Amarillo, Texas and was fitted with heavy duty custom bumpers (built by Cool Cruisers) for hunting (see rear bumper, below)... See Load-N-Go Portable Winch System riding on front bumper and Hella Off-Road Lights... Removable winch system can be used to pull front, rear or side of Land Cruiser... This is a very clean Land Cruiser that is VERY CAPABLE...
**** Email from Purchaser, After Delivery ****
Email #1 July 13,1998
Stephen: FJ60 arrived on Fri evening, no problems. Did just as you said and drove it to my driveway. Didn't expect all the equipment that it had including A/C!! Winch is toooo nice to leave on the vehicle, it'd be stolen in a heartbeat. Thanks too, for setting the seat back. You folks are first class and I appreciate it.
Email #2 July 28, 1998
Stephen: Well, I've got to tell you that I've had no less that 6 teenagers stop me at lights, or come by my house and ask if I'd sell my Land Cruiser. I've had Corvettes, Mercedes', BMW's and NEVER generated this much excitement over an old cult truck. I get thumbs up all over the place and it makes me happy. Thanks again.