HFS™ "Hell for Stout" Spring Warranty
"HFS's" unique spring warranty proves our devotion and confidence in the quality and reliability of our HFS™ springs.
If you are the original purchaser (invoice required) of HFS™ springs and one of them breaks, then will give you a new spring.

Broken Springs are limited to replacement only and sagging springs are not covered due to vehicle's possible exposure to unreasonable loads that springs may not be engineered for.

HFS™ Springs are "Lift Springs" not "Overload Springs"

CCOT is not responsible for labor, freight or


any other cost incurred on a warranty claim. This warranty only applies to HFS™ springs purchased after 12-11-03.

This warranty excludes shocks and stabilizer cylinders.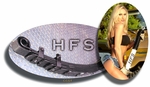 Hardcore Off-Road Performance
HFS™ components are specifically formulated
for early model Land Cruisers.
HFS™ - ultra tough suspension without harsh ride.
See "HFS" Lifts for FJ40, FJ60 and FJ62.
See "HFS" Springs for FJ40, FJ60 and FJ62.
See "HFS" Shocks.
See "HFS" Shims.