Battery Hold Down Kit
Universal Battery Hold Down Kit...

One size fits all...

Adjustable "J" hooks and heavy duty rubber top strap allows expansion to fit most any battery size... Battery tray not included... We have used this CLEAN SYSTEM on many of our FJ40 Restorations and find it to be a compliment in both function and appearance...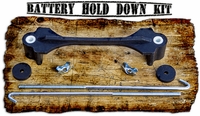 Eliminate battery shifting and movement.
Great Solution at a Great Price.
Click to Enlarge Photo
Regular price: $15.25
Sale price: $9.10
Original Toyota Battery Hold Down
Stainless Steel Serrated Lock Nuts Included
Does not fit the FJ60/62 battery tray
$27.11