Bench Seat Installation '79 - '84 FJ40 & BJ40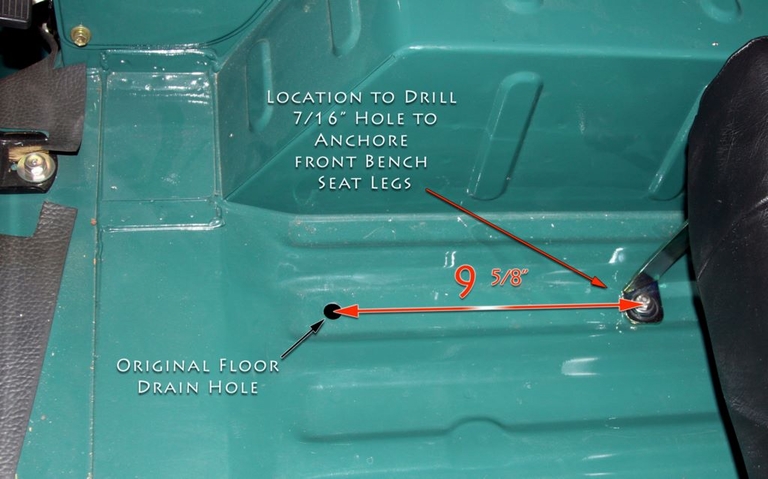 # 1--Attach the front feet risers brackets of the bench seat to rear bed floor by drilling two 7/16" bolt holes, per above photo.

# 2--The exact location of the two holes to be drilled is 9 5/8" (Center to Center) back from the factory drain holes which are located on the rear bed floor behind each of the two front bucket seats.

Note: When marking / locating the spot to drill these two 7/16" bolt holes, measure back 9 5/8" from the center of the floor drain hole to a factory spot weld located on the bed floor. The spot weld will measure exactly 9 5/8" (CTC) back from the drain hole. These very discreet factory spot welds mark the very spot(s) to drill these two 7/16" bolt holes to anchor the bench seat's front two legs to the cargo floor.

# 3--Once the seat's front feet riser brackets have been secured to the floor, then all other floor hole locations (seatbelt & seat striker/catch) will be established.

# 4--The seat striker/catch will need to be flipped around where the "D" ring is facing towards the front. Then mark and drill two more 7/16" size holes where the catch will be located.

Also, see photos of '65 to '78 installation at the link below to see how the lap belts and seat catch install.